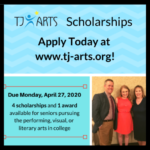 TJ Arts Scholarships are now available to graduating seniors from Thomas Jefferson High School!
Deadline for submission for all scholarships is Monday, April 27, 2020.
For the first time, we are offering the new Margie Liberati Memorial Music Scholarship.
Other opportunities include the Matteo Music Scholarship, Kathy Cecotti Memorial Scholarship, TJ Arts Scholarship, and Founders' Award.